Travel Clinic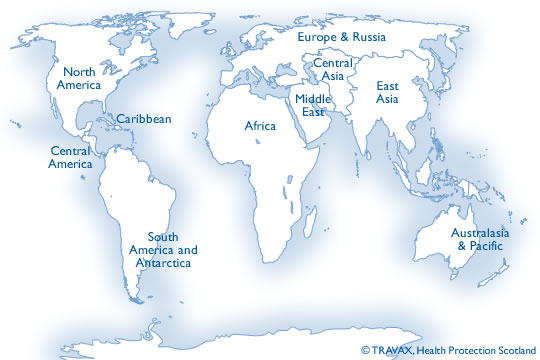 If you have a trip planned, you should be asking questions like; what travel vaccines do I need? Are my vaccinations up to date? Do I need a tetanus booster? What activities can increase my risk of contracting hepatitis B? What course of malaria tablet would be suitable for my needs?
Book an appointment for a Travel Health Consultation at the Bush Pharmacy Travel Clinic. One of our professionally qualified and experienced specialist travel health advisers will be pleased to give you individually-tailored travel health advice and information based on your itinerary, any underlying medical condition and your previous vaccination history. Our Travel Health Advisers will provide you with all the necessary advice regarding travel health vaccinations, medicines and travel healthcare products that you may need for your trip.
Which Vaccinations do you need? Simply refer to the map below and click on the areas you are travelling to, for up to date guidance on what you need.
All Vaccines are available onsite, no need to order first!
Certified NaTHNac Yellow Fever Vaccination centre click here for more info
Affiliated with The Muslim Council Of Great Britain (MCB) to offer discounted vaccinations to pilgrims travelling to Hajj or Umrah
Expert in malaria advice click here for info on Bush Pharmacy malaria service
IMMEDIATE vaccinations click here more info
Up To Date information on worldwide health risks
FREE International Certificates and vaccination booklet
Experts in CORPORATE TRAVEL
FREE travel consultations
10% OFF anything bought at BUSH PHARMACY after a Travel Vaccination appointment
Click on each of the services below to find out more:
Please fill in this Travel Vaccination Assessment Form to save time at your appointment.